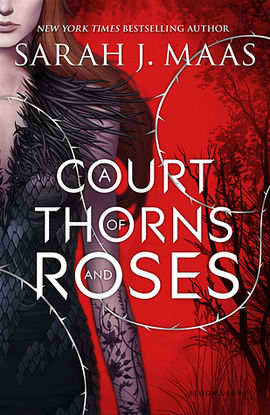 Okay so first off I will from time to time review other books because I am a bibliophile.  I also love telling others about the books I read, I will only do the books that I absolutely love.  I refuse to bash a book or another author, I don't do that.  Someone worked so hard on that book and they are proud of it, and being an author myself I don't want to tear down someone's hard work.  So without further ado I am going to do my first review!
Okay so let me say this as well: I REALLY want to review A Court of Mist and Fury (which is the second book), but I figured that I should start with the first one.  So here it goes.
This book is about a girl names Feyre who is a huntress.  She has to hunt because her family is poor and she's really the only one that can provide because her dad was injured badly, and her sisters are used to a wealthier lifestyle and can't seem to find it in themselves to help their younger sister.  Well one day she's out in the woods and she kills a wolf that isn't a wolf, it's actually a faerie.  A few days later another faerie shows up and tells her because she killed the other faerie she has to come live with him in his realm of Prythian (I think I spelled that right?).  Is this starting to sound familiar?  Like Beauty and the Beast?  That's because it is a loose, and I mean loose, retelling of Beauty and the Beast.  So anywho she goes with the faerie and she hates him, because all humans hate and are scared of faeries.  But after a while she starts to fall for Tamilin (the fey she went with), and they have this huge romance.  Then Feyre finds out that she's the only thing that can help the curse that is spreading across Prythian.
So that's as far as I'm going to go on the overview because I don't want to give away too much, I don't want to spoil it for you and I'm heading into dangerous territory there.  I'm just going to say what I thought about it now.
I read this book in a day, this book is over four hundred pages and I don't think I've ever read a four hundred page book in a day.  I was just that into it.  My mom was honestly so surprised when I put it down and went "Done."  Like I read this thing in about three hours give or take… I had school work, it would have taken less time if I hadn't had school.
I liked Feyre, but she wasn't my all time fave character in a series.  That changes in the second book though.  I like to connect with the characters I read about in some way.  Either I see myself in them or we share a similar interest or something along those lines.  I just felt disconnected from her.  She was a good character and she wasn't a Mary Sue type in my opinion, and I wanted to like her but I couldn't.  I felt bad for her and all the shit she had to go through in the end, and I absolutely loved Tamlin.  I'll get to him in a moment.  Despite me not liking Feyre all that much she is strong, and she is willing to do anything to save the ones she loves and even those she doesn't really know.  I applaud her on that because she is so strong and fearless in this book and in the next.
Let me move onto Tamlin.  Tamlin is one of those book boys that you know is going to become a ship with the main character, but you don't like them at first.  I thought he was a dick at first, and I did not like him.  As the book went on though I fell in love with Tamlin and I was all aboard the Feylin ship.  He was sexy, he was hot, I loved him.  (Hahaha to all the people that have read ACOMAF don't judge me just yet.)  Then Feyre fell for him and the shipping intensified.  Then I read a spoiler that I didn't like, if you want to know go to the Wikia page and look at Feyre's character description page don't unless you want to be spoiled.  I feel like if you're on Tumblr then you may already know why though.
Lucien is next.  He was a dick to Feyre, and I didn't like him til the end, and then I hated him in the next book.  It's a roller coaster with him to be honest.
Rhys, I hated Rhys until the end of the book.  He was a dick and then he wasn't a dick.  And please don't ever compare him to Tamlin because he is nothing like Tamlin.  I will protect my precious Rhys.  He's been through some shit and he only cares about his friends and his people.
Overall I really enjoyed this book, I enjoy all of Sarah's work.  She's an awesome writer and I love her characters and how her books make me feel.  I haven't been excited about a book release in a long time like I am about Empire of Storms and ACOTAR3.
Rating: Five Stars
Photo taken from Goodreads.com